The Truth about False Teeth
25/11/2015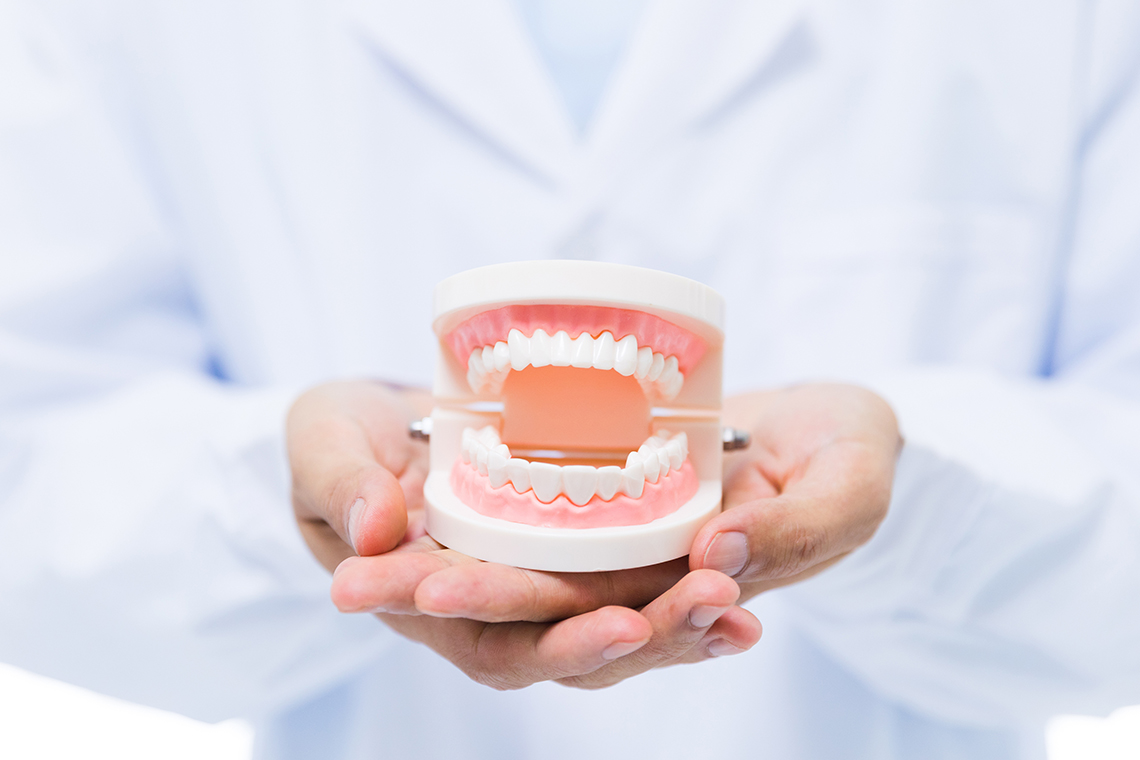 It can all seem a bit daunting and confusing at first, but as with cleaning your teeth- it's all about educating yourself on how to care for your dentures and, of course, establishing effective daily habits and routines.
The British Dental Health Foundation have very helpfully released an article regarding denture care and have provided the answers to a lot of the questions we get asked regularly by denture wearers. 
How often should I clean my dentures?
It is important to treat your dentures as you would treat your natural teeth. You should keep them as clean as possible so that you don't lose any more of your natural teeth, or have inflamed gums or bacterial and fungal infections. We usually recommend that you clean them thoroughly last thing at night and at least one other time during the day, and after eating if you need to.  
How should I clean my dentures?
The general rule is: brush, soak and brush again. Always clean your dentures over a bowl of water or a folded towel in case you drop them (remember- they don't bounce!) Brush your dentures before soaking them, to help remove any bits of food. Using an effervescent (fizzy) denture cleaner will help remove stubborn stains and leave your dentures feeling fresher.
Always follow the manufacturer's instructions. Then brush the dentures again, as you would your own teeth. Be careful not to scrub too hard as this may cause grooves in the surface. Most dentists advise using toothpaste and a small- to medium-headed toothbrush. Make sure you clean all the surfaces of the dentures, including the surface which fits against your gums. This is especially important if you use any kind of denture fixative.
Is there anything I should avoid?
It is important not to use any type of bleaching product to clean your dentures. Bleaching can not only alter the colour of your dentures, but may also lead to weakening of the dentures. Do not use very hot water to soak your dentures. Again, it can weaken the dentures, causing them to break.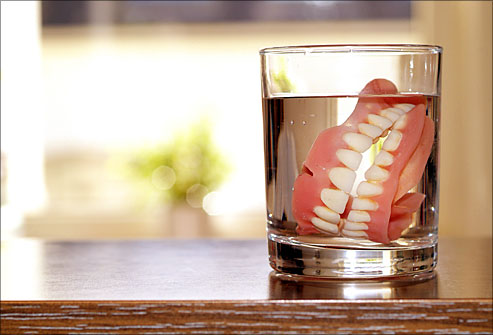 Should I remove my dentures at night?
Dentists often recommend removing your dentures at night to give your mouth a chance to rest. If you remove your dentures, it is important to leave them in water to prevent any warping or cracking.
Do I still need to see the dentist?
It is important to visit your dental team regularly even if you don't have any of your natural teeth. Dentists do not check just your teeth, but also the soft parts of the mouth, including the tongue and cheeks. These examinations are just as important, so the dental team can spot any infections, mouth conditions or even mouth cancer at the earliest stages.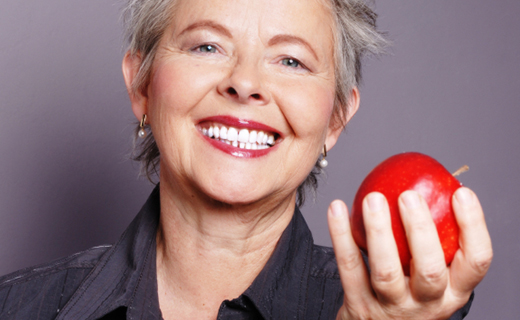 Will I be able to eat with dentures?
Eating will take a little practice. Start with soft foods cut into small pieces. Chew slowly, using both sides of your mouth at the same time to stop the denture moving. As you become more used to your denture, add other foods until you get back to your normal healthy diet.
Will dentures change how I speak?
Pronouncing certain words may take practice. Reading out loud and repeating difficult words will help. If you find that your dentures occasionally slip when you laugh, cough or smile, reposition them by gently biting down and swallowing. If this happens a lot, see your dentist.
How long will my dentures last?
If you treat your dentures well, they should last several years. However, your dentures will need to be relined or re-made because of normal wear, or a change in the shape of your mouth. Bone and gum ridges can shrink, causing your jaws to meet differently. Loose dentures can cause discomfort, and health problems including sores and infections. A loose or badly fitting denture can also make eating and talking more difficult. It is important to replace worn or badly fitting dentures before they cause problems.
Whether it be how to care for them, or what to expect from the experience of getting your first dentures, the whole team at Oak Lodge are dentally trained and qualified, so we are all on hand to answer your questions.
If you are interested in discussing dentures with your dentist, please call 01428 723179 and our reception team will be happy to help you.