Healthier teeth and gums in 2 weeks
03/11/2019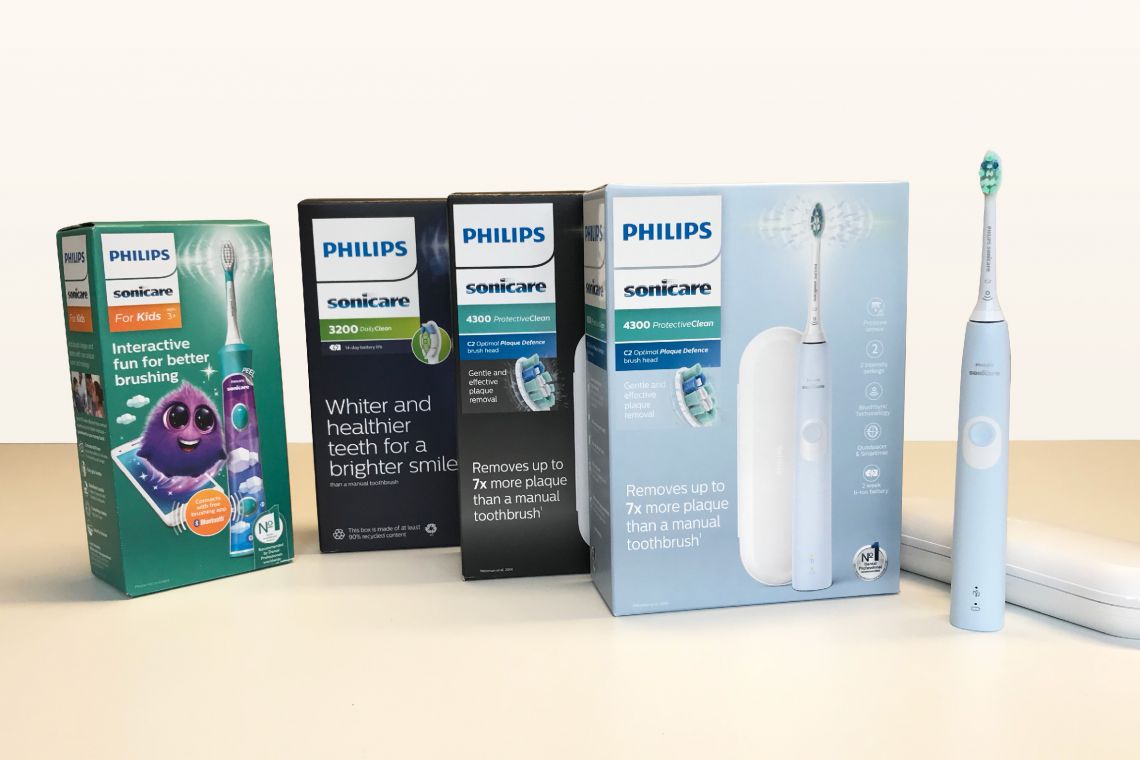 As experts in oral care, we only stock and recommend the very best products to help you to maintain your teeth and gums between appointments.
So, having done our research, we are delighted to announce that we are now stocking Philips Sonicare Power Toothbrushes.
Healthier teeth and gums in 2 weeks
A good oral hygiene routine between visits to your dentist and hygienist is essential for the ongoing health of your teeth and gums and using the right products in your routine makes all the difference.
The Philips Sonicare Power Toothbrushes are powerfully effective, yet remarkably gentle. Featuring advanced technology, using a Philips Sonicare Power toothbrush can remove up to 10x more plaque than a manual toothbrush*.
Dr Bolton shared his thoughts:
I love the Philips Sonicare toothbrush as it cleans teeth without relying on a purely mechanical action. The 'cavitation' action of the toothbrush head helps to effectively dislodge plaque and food particles from the surface of the teeth. A really excellent toothbrush.
The Sonicare toothbrush performs up to 62,000 brush movements per minute – no wonder it's more effective than using a manual brush!
Philips Sonicare for all the family
If your younger family members need some encouragement with their oral hygiene routine, the Sonicare for Kids Connected could be the answer. Giving exceptional results, the toothbrush features built in Bluetooth with an interactive app featuring a personal coach, Sparkly. The app features a video to help educate children on how to brush effectively as well as tracking their progress and rewarding great brushing.

Plus, the toothbrush can be customised with interchangeable stickers! Patient Mrs G shared her recent experience:
My 5 year old son is loving his new Philips toothbrush! From the first use, he has been far more interested in cleaning his teeth for the full 2 minutes – rather than wanting to stop early. The video showing how to use the brush and angle it around the mouth is really helpful – it's even helped me!' 
Buy your new Philips Sonicare Power Toothbrush from Oak Lodge
We are currently stocking: Philips Sonicare ProtectiveClean 4300 @ £69, Sonicare For Kids Connected @ £49 and DailyClean 3200 @ £39. A 4pk of replacement toothbrush heads is also available @ £25 - over time your bristles become less effective, removing less plaque, therefore we advise you to replace the head every 3 months.
These fantastic toothbrushes are already proving very popular, so if you would like to purchase one, please pop in or speak to our reception team on your next visit. 
*Philips Sonicare Clinical Studies